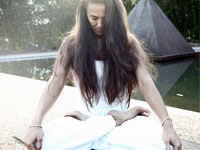 In 2006, I made a huge leap of faith into the world…..to try to "be the change" I wanted to see. Fed up with supporting a government hell bent on "shock and awe", I traveled abroad and lived out of a bag, no permanent address or monthly bills. This in turn allowed me to significantly reduce my income and the taxes I paid each year. Not much in the grand scheme of money being spent terrorizing the terrorists, but it was my effort and my change. It was then that I created the Yoga and Dharma site. I wanted to promote my teaching and to communicate the need for more awareness and activism against the political and social injustices in the world.
In the Fall of 2009 I realized, with great certainty, that it was time for me to settle down again. Tired and more than a little weak from recurring affronts on my digestive system, I decided to rest, re-evaluate and re-focus. There was a new administration in office, and though I couldn't see that much "change" in the political circus, it was easier to move back knowing that George W. was no longer holding the reins.
So, now what??? Teach, Heal, Love, and Learn, to be ever more flexible, in body, mind and viewpoints. To once again attempt to embrace those with varying views, politically, emotionally, yogically and most importantly, spiritually. I have always taught myself and my students to grip as little as possible…..to breathe and allow the time for transition. To not fear that which is unknown and embrace the discomfort that arises when we truly slow down and witness the seeds we have sown, germinating.
Testimonials

Debbie Mills attended my lectures, workshops and retreats in the U.S. and abroad for nearly a decade. She is a devoted student of yoga and ayurveda, and of eastern wisdom in general, and is dedicated to transmitting these teachings accurately. By applying the subtle energetic principles of asana and pranayama, her work facilitates practitioners of all levels to go deeper into their practice.
– Dr. Robert Svoboda

I have known Debbie Mills as one of the few yogis who show equal facility and knowledge in both the philosophy and the practice of Yoga (especially Vinyasakrama which I teach). I have found her to be very keen, hardworking and having a natural disposition towards yoga.

She has studied at different locations privately (more than 100 hours) and in small group classes, studying the complete Vinyasa Yoga, Yoga Sutras, Samkhya Karika, Yoga Taravalli, Yoga Rahasya, Yoga Makaranda and Chanting. She also has a good working knowledge of Sanskrit. I wish her well in her studies and teaching of yoga and related subjects. – Sri Srivatsa Ramaswami


While yoga classes are widely available in many forms with different emphases, Debbie Mills stands apart as a teacher who has a deep respect for all aspects of yoga practice and how the different aspects combine to form a vital and unique unfolding practice for each person. She is committed to helping others develop meaningful individual practices for themselves, and she approaches her teaching with care and integrity. Debbie's continuing devoted study with renowned teachers gives her teaching a depth of awareness and understanding which is exceptional and well appreciated by her students.

Programming at The Jung Center supports the development of greater self-awareness, creative expression, and insight individually, in relationship, and in community. We are fortunate to have a yoga instructor whose approach resonates so well with our mission. – Dorothy Weathers – Program Coordinator

"Debbie Mills is one of the most informed practitioners and teachers I've encountered in my 20-odd years in yoga…"– Gretchen Faust – Founder, The Forge Yoga Centre

excerpt from the Guardian Article "10 of the World's best Yoga Retreats 2012"-
to read more click here